Sacramento HVAC Specials & Rebates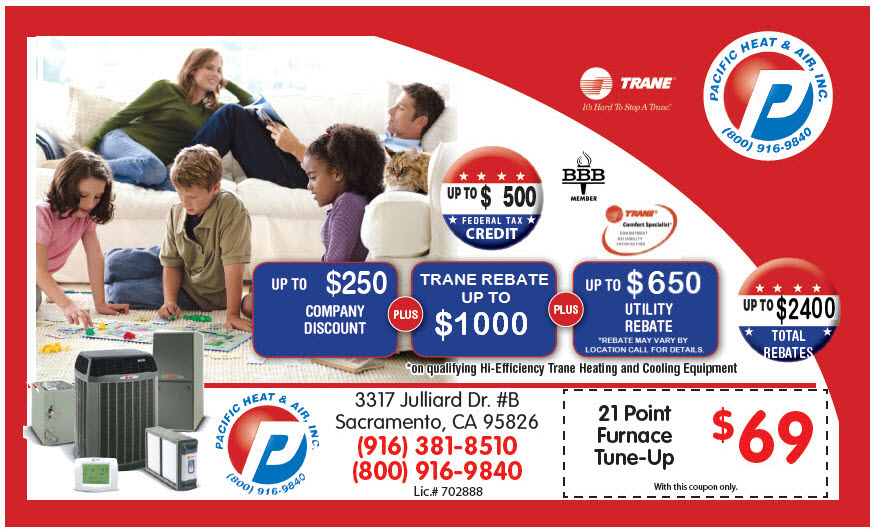 New AC System or Heater and Furnace Rebates: Up to $2400 in Rebates and Savings!
Limited Time offer!
Trade-Ins Rebates & Tax Credits on The Purchase of a New Home Comfort System

Need another reason to upgrade your AC system? How about four?
1. 0% interest financing for 36, or 48 months. 0% Same as cash.
2. Trane Rebate up to $1000 or 0% financing
3. Lower monthly energy bill
4. Tax credit up to $500
**See your independent Trane Comfort Specialist™ dealer for complete program eligibility, dates, details and restrictions. Special financing offers valid on qualifying equipment only. All sales must be to homeowners in the United States. Void where prohibited. The Home Projects® Visa® card is issued by Wells Fargo Financial National Bank. Special terms apply to qualifying purchases charged with approved credit at participating merchants. The special terms APR will continue to apply until all qualifying purchases are paid in full. 0% APR: The minimum monthly payment will be the amount that will pay for the purchase in full in equal payments during the special terms period. For newly opened accounts, the regular APR is 27.99%. The APR will vary with the market based on the U.S. Prime Rate. The regular APR is given as of 1/1/2014. If you are charged interest in any billing cycle, the minimum interest charge will be $1.00. The regular APR will apply to certain fees such as a late payment fee or if you use the card for other transactions. If you use the card for cash advances, the cash advance fee is 5.0% of the amount of the cash advance, but not less than $10.00.
NO INTEREST FINANCING AVAILABLE - 0%APR for 36, or 48 months
Financing offers apply only to Trane Qualifying Equipment, financed under the Trane/Wells Fargo program. Contact Pacific Heat and Air for more details.
- Sales of Qualifying Equipment must be completed between January 8, 2014 and March 14, 2014;
- AND · Installation and subsequent claim submission in the TPCC must be completed within 30 days from the date of sale of the Qualifying Equipment to be eligible.
Pacific Heat and Air Discount of $250
Pacific Heat and Air is teaming up with Trane, utility companies and the federal government to bring you big savings and great Sacramento HVAC Specials. Call for more details. If you are looking for New AC System Rebates this is the place. As a thank you for choosing Pacific Heat and Air, we are throwing in an additional limited time discount of $250. Thats a combined savings of $2600.00.
Utility Rebate of up to $650
Tax Rebate of up to $500
Check back often for, Trane Rebates, Utinity Rebates, Federal Tax Credits, and other discounts.
Please call for more information. Find out about the latest Rebates and ways to save thousands on your new HVAC unit. We combine rebates from Trane, the State of California, and ourselves to offer you the best prices around.
We also have preventative maintenance contracts available to maintain your current system. Take advantage of our special low price Furnace Tune Up for or Low Cost Air Conditioning Tune Up Special. $69 for a 21 point tune up of your current HVAC Unit. We also have one time maintenance for twice a year programs to keep your central heating and air conditioning system at peak performance. We thank you for considering our service today. Click Here or Call today. I doubt you will find better Sacramento HVAC Specials or Sacramento HVAC Rebates anywhere. Call now of more information.
Other Manufacturer Rebates are available. Please Ask.